"Does he ever sleep? His eyes are dark-circled, but his hands are steady."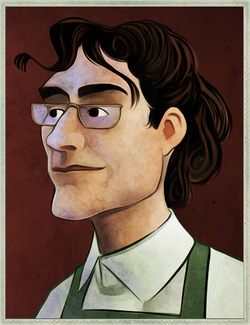 The Tireless Mechanic
can't sleep. Really, he can't. He stole a secret from the dreams of the Stone Pigs (long story short, weird demon-things beneath the Neath), then he made a deal with
the Fingerkings
 to dispose of the secret - but he betrayed them, and hid the stolen secret in
Frostfound
. As a consequence, if he sleeps, the Fingerkings will drag him into
Parabola
. He is intelligent enough to outsmart them; however, he just needs the right tools, like a draught of some sort of potion that keeps him awake.  Or perhaps he will set a trap for them instead...