"An old voracity lives here, in the far reaches of the zee. The priests are long gone, but sacrifices are still made here. Perhaps you have come here to make a sacrifice. Perhaps the sacrifice is you."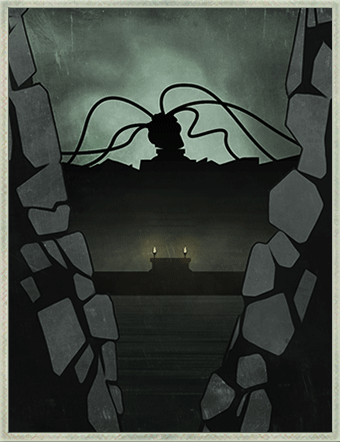 An empty, ruined arena. This is Kingeater's Castle. You may come here if you pray to Salt, but you wouldn't want to do that. Everything you can do here before you leave will almost definitely be destructive in some way, shape, or form: such options as losing your mind, eating your crew (or sacrificing some of them), telling all the stories you've collected (which will probably bring you somewhere else), speaking your name in Correspondence (warning: this hurts), and giving up your past or future to continue your journey East for Salt's sake... among other detriments.
A priest called the Sixth Witness is here, staring to the east. She knows she will see nothing. She waits for the Seventh Witness, who will replace her, just as she replaced the Fifth Witness. The Seventh Witness will see something to the east.